KEEP GUERNSEY BEAUTIFUL, COUNTYWIDE LITTER CLEANUP AND TIRE AMNESTY PROGRAM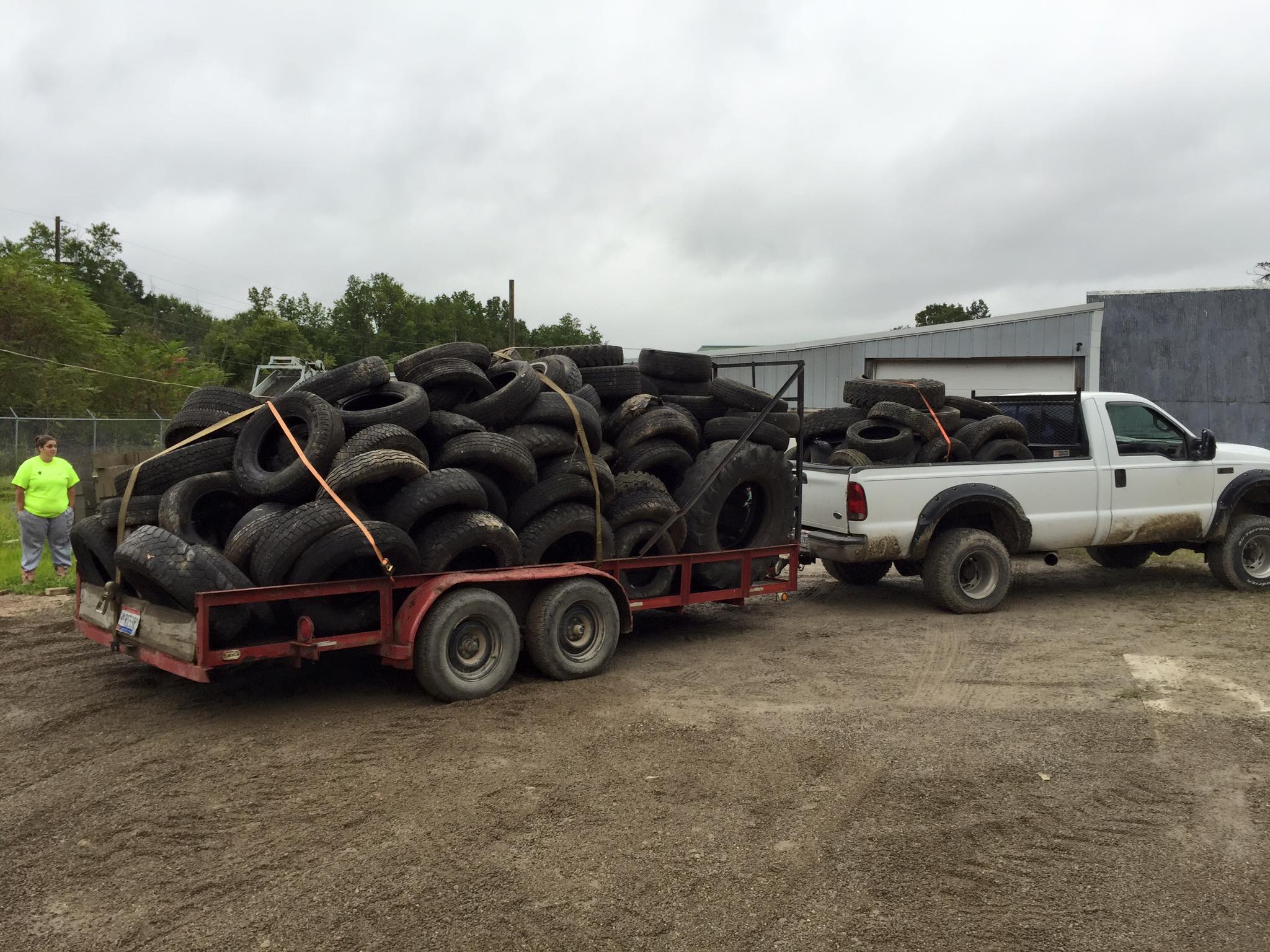 Program Summary:
The Guernsey County Community Development Corporation (or CDC), a 501c3 non-profit, seeks to develop and sponsor specific projects that develop, support and promote the following: economic development directly related to green space and riparian corridor preservation and retention, to include wetlands and floodplains, projects that are directly related to water source protection,  preservation of open space land areas for public outdoor recreation or education or scenic enjoyment, the preservation of historically important land areas or structures, the protection of other natural environmental systems, development of local entrepreneurial initiatives, and special projects that asset our Veterans and their Families.  All CDC projects are developed to work for and towards the greater economic health and quality of life in Southeastern Ohio.
In keeping with our mission statement the CDC has partnered with a number of local municipalities to offer a county wide litter clean-up, tire amnesty program, and targeted roadside cleanup projects.  The most prominent of these partnerships is the one formed with the City of Cambridge.  Under the direction of Kim Conrath Cambridge has applied for in the past, and received, litter clean-up grants when the program was administered by ODNR
Program Capabilities:
List of Activities and Projects.
Tire collection and amnesty program. The first four tires will be collected for free; each additional tire will cost the user $1.00 to dispose of. Projected date will coincide with the litter clean-up event.
The CDC will organize a litter clean-up event that will utilize volunteers to clean up local roadways, illegal dumpsites, area parks, creek and lake lines and more. Organizations will be asked to support the clean-up event by gathering volunteers and helping to identify possible clean-up sites. Projected date will coincide with the tire collection and amnesty program.
Project Breakdown:
This project is a combination Litter Clean-up & Tire Amnesty program.  The program will consist of a tire and litter removal program for the residents of Guernsey County.  The event is scheduled to take place during the month of September.  Our local municipalities will work with the CDC to gather volunteers and to identify specific areas that are in need of litter cleanup.  The litter that is gathered from the projected areas will then be transferred to one of many collection sites that will be monitored by CDC employees.
Outreach and Community Involvement
Community Planning Events. The CDC will meet with local communities to determine what areas are in need of littler clean-up. This process will utilize a document that will help set goals, create a timeline of events and to inform how our litter clean-up event can meet the needs of the community.


Mail out letters to local elected officials. This letter will provide outreach to local elected officials and get them involved with the campaign.


We will engage local communities and faith leaders. This will be done by mailing each one a letter that describes our event, which will in turn help to build a relationship with local leaders, which is the key to making this event a success.


Clean the Block Contest. Encourage neighborhoods and neighbors to work together to clean up their blocks. The contest will encourage individuals to work together to clean-up and dispose of the most litter possible.  The winners will be recognized for their efforts.


Meetings will be held monthly at the CDC office complex in order to engage the local population and to keep lines of communication open.


Media outreach campaigns will be utilized as well. These campaigns will include newspaper articles, as well as social media outreach activities (Facebook and Twitter), school fliers, email blasts, talking points and radio outreach through the "Talk of the Town" segment.


Local business involvement. We will encourage local businesses to participate in this program by asking them to allow their employees time to volunteer for the countywide litter clean-up program. The employees will be able to wear clothing with their employer's name on it to help build a sense of team unity, community pride and increase a local business's name recognition.
Tire Collection Fees:
Passenger and Light Truck: No charge for the first four tires, $1.00 charge for each tire collected thereafter, per person.
Semi-truck and Agricultural: $1.00 per tire, regardless of the number of tires collected.
Scrap Metal and fees collected from tires
All scrap metal collected will be recycled. The revenues from the scrap metal can be used in one of two ways; 1) a government organization can use the funds to pay towards any cost it deems appropriate. 2) The revenue collected from the scrap can be donated to the CDC which will hold the funds to help pay towards the 2015 Litter Clean-up and Tire Amnesty Program.
Examples of Success:
2014:
We had a total of 63 volunteers work a total of 789 hours, picked up 2002 bags of litter, collected 62 tons of illegally dumped material and 12,157 tires and cleaned up 7 illegal dumpsites
2015:
82 Volunteers put in 836 total hours, picked up 2227 bags of litter,
Collected 10,635 tires and collected 129 tons of illegally dumped material
2017:
60 volunteers put in a total of 480 volunteer hours, picked up 1,937 bags of litter
Collected 10,121 tires and collected 220 tons of illegally dumped material
2018:
Collected 4,364 tires
2019:
Collected 3,880 Tires
2021:
38 Volunteers put in a total of 456 volunteers hours
Collected 11,950 tires
Collected 30.24 tons of illegally dumped materials
Six Year Totals:
Tires: 53,107
Bags of Litter: 6,166
Volunteer Hours: 2,561
Ton of illegally dumped material: 441.24