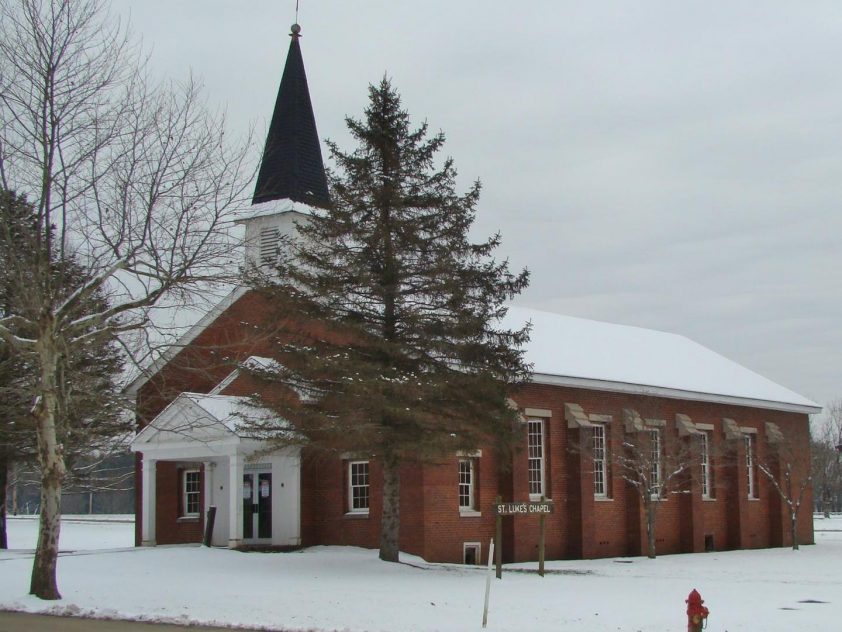 A process that started in December of 2018 was finalized last month when The Guernsey County Community Development Corp. (CDC) reached an agreement with the State of Ohio to acquire and maintain the historic Fletcher Chapel located on the grounds of the Cambridge State Hospital, which previously had been Fletcher General Hospital and World War II POW camp.
During the Second World War, the U.S. Army constructed the 131-building hospital on level farmland. The army built the facility as a 1,520-bed hospital in the winter and spring of 1942-'43. It was later expanded to 168 buildings with a 2,000-bed capacity, including a German POW camp for 234 prisoners engaged in hospital work. Between June 1943 and March 1946, when the facility closed, 17,608 veterans were treated here, most having returned with injuries received in the European or Pacific theaters of war. Convalescence and rehabilitation were the hospital's primary missions. Most patients returned to active duty when they recovered. After the war, the facility became the Cambridge State Hospital, which treated mentally ill and developmentally disabled Ohioans until 2008. Thereafter, the facility became the privately-operated Cambridge Behavioral Hospital and the state-operated Cambridge Developmental Center.
The chapel had been slated for demolition until local historian Rick Booth intervened and worked with the CDC and the state to save this building as a historically important piece of our local WWII history. The CDC, which owns 72 acres of land adjacent to this property, will work with various organizations to determine the best possible use for the chapel, while ensuring that its historical importance is recognized.
We want to personally thank Rick Booth, Commissioner Skip Gardner (who got the CDC involved), Aaron Lichtenauer and Brian Sprague (with the State of Ohio) for making this happen.
This is yet another example of how we can achieve anything by working together.