TOWNSHIP OUTREACH AND SUPPORT PROGRAM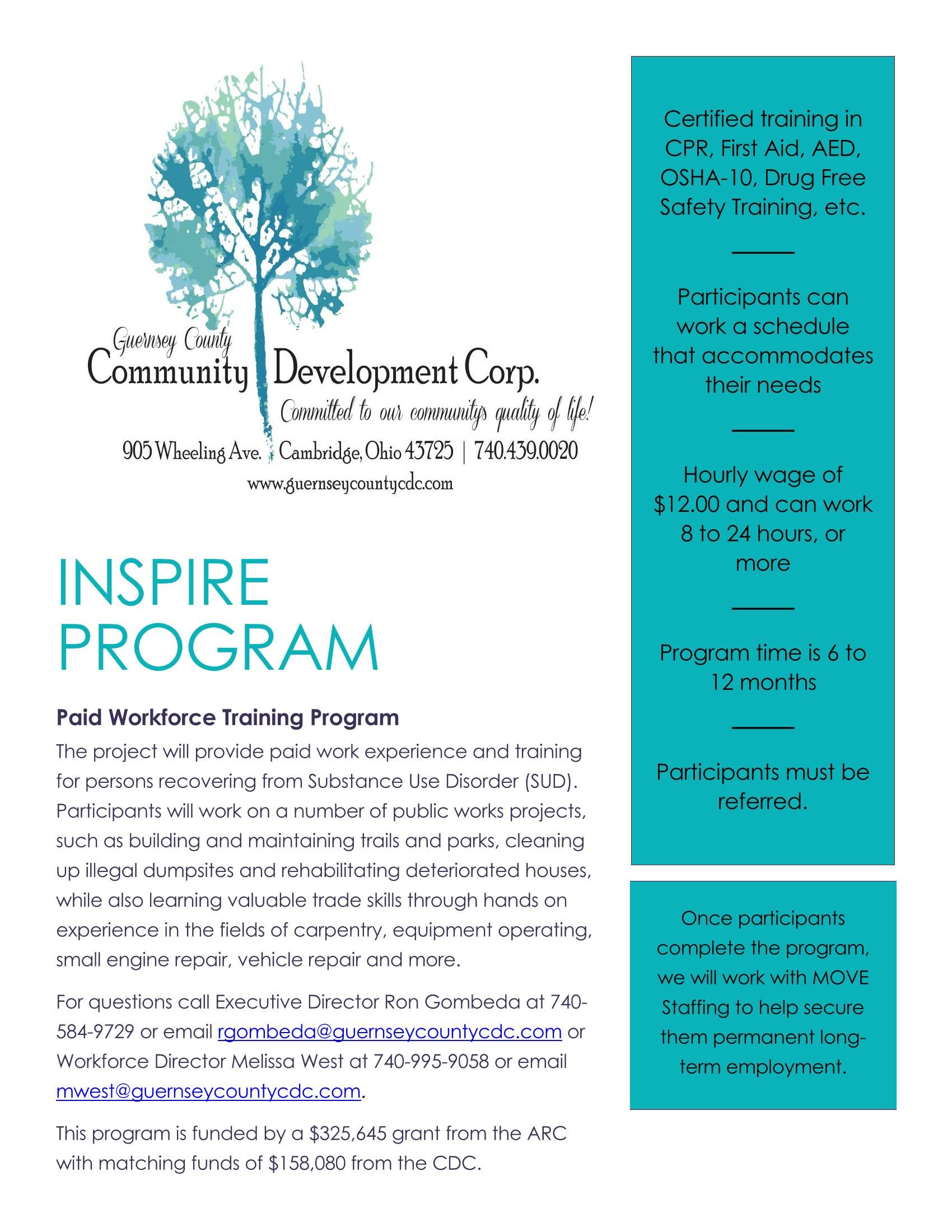 The Guernsey County Community Development's project proposal provides paid work experience and initial training for youth (ages 15-24) and adults that are displaced works, unemployed, etc. and will cover the basic requirements for most types of employment. This program is accomplished in an actual work setting and a classroom. Participants will engage in a number of public work type projects, such as building walking trails and parks, maintaining existing trails and park, cleaning up illegal dumpsites and rehabbing dilapidated housing for the CDC's affordable rental program, while also learning valuable trade skills through hands on experience in the fields of carpentry, small engine repair, vehicle repair and more.
In addition to paid work experience participants will gain certified training in CPR, first aid and AED, OSHA-10 certification, Drug Free Safety Training, Endangered Species Training, Hand & Power Tools, Personal Protective, Equipment, Hearing Conservation and Exposure Training. Each focus area will be completed under the supervision of experienced supervisors and a program director and will include 2,080 hours of total employment and training per participant. Lastly, participants will be provided training in the following skills areas; occupational, communication, critical thinking, teamwork, self-motivation, time management, financial literacy, understanding credit, building empathy, resume building, job interview skills and each completed skill will be documented in a skills development portfolio.
We will partner with a number of local organizations such as Guernsey County Health Choices, Cedar Ridge Behavioral Health Services, MOVE Staffing Agency, Telling Industries, Guernsey County Drug Court and Adult Probation, Stier's Excavating, South East Area Transit. The purposes of these partnerships are to identify potential participants, provide services and place them with permanent employers.